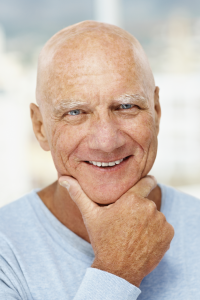 Why Actinic Keratosis should be Treated
Many people have a strong fear of cancer. The majority of adults have known somebody, perhaps a close friend or family member succumb to cancer. Due to actinic keratosis being associated with skin cancer, many are rightly concerned about treating actinic keratosis swiftly and properly. This concern may be the reason that you are reading this page right now.
For many people in the older generation, the sight of actinic keratosis is a common and familiar one that is associated simply with general aging. Remember that up to 50% of the population is affected by this condition by the age of 70, and is much more common in the elderly population due in large part to their total lifetime sun exposure. It is imperative that the patient understands that while very prevalent, actinic keratosis has a very real potential to develop into skin cancer, and is a sign that the skin damage has reached a critical mass. When the skin is damaged severely, it is vulnerable to other skin problems, including skin cancers that are not associated with actinic keratosis. If you have a loved one who has actinic keratosis, encourage them to visit a clinic. While AKs are considered to be a serious medical problem, there are many treatment options available, most of which are relatively simple, convenient, and non-invasive.

While medical insurance policies vary widely from location to location, and also individually, in most cases, treatment for actinic keratosis will be covered. As actinic keratosis has a chance of developing into a potentially invasive skin cancer, health insurance will generally treat AKs as a medical condition, and cover some of the costs of treatment. If you have a friend or family member with actinic keratosis, encourage them to see a dermatologist, and seek more information about it.