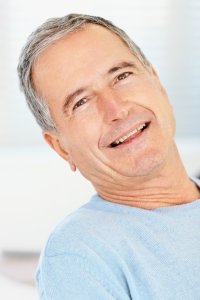 Actinic Keratosis
and Skin Cancer
Actinic keratosis is often associated with cancer, but it is not cancer. They are precancerous lesions, meaning that they can later develop into a type of skin cancer called Squamous Cell Carcinoma.
While the chances of malignant changes occurring are relatively low (5-10%), there is no reliable method that predicts which ones will become cancerous later. For this reason, it is strongly recommended that actinic keratosis be properly treated while it is still benign.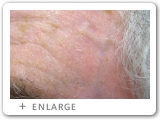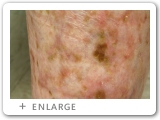 Although actinic keratoses are rarely painful, itchy, or otherwise discomforting, it is a skin problem that has potential to cause significant harm to the patient. Although many patients focus on the cosmetic aspects of this disease, actinic keratosis is considered to be a medical condition because of the possibility of progressing into cancer. As such, most medical insurances will cover the cost in part or in whole, the cost of treatment.
Actinic Keratosis and Sun Exposure
Actinic keratosis is a growing concern in areas where UV levels are high. Australia, North America, and countries in the southern hemisphere are considered high risk areas for actinic keratosis. Actinic keratosis develops as a result of long-term sun damage. However, AK typically takes many years, in some cases, decades to develop from the initial damage that set the process in motion. Nonetheless the accumulation of sun damage is understood to be the primary cause of actinic keratosis development.

Severe sun exposure during the early years of one's life is a significant factor for AK development. Like many sun damage related problems, those with pale white skin have the least protection from melanin, making them the most vulnerable group to actinic keratosis. Sun protection is very important to reduce the chance of developing AKs later in life. Other risk factors include a weakened immune system. Organ transplant patients have a very high chance of developing actinic keratosis due to the immunosuppressive medications that are required to prevent organ rejection. AIDS patients who have weakened immune systems are also more vulnerable to developing actinic keratoses than the average population.

Related: