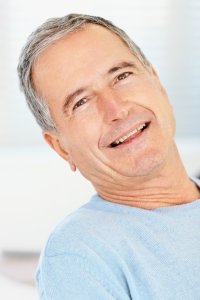 What is

Basal Cell Carcinoma

Basal Cell Carcinoma is the most common type of skin cancer. It is also the least dangerous. The name is derived from the part of the skin that is affected. Basal cell carcinomas generally have a fleshy pink to red color, ulcerate often, and are often appear as if they are wounds that are slow to heal.

The majority of basal cell cancers occur on sun-exposed areas of the body, and are strongly influenced by sun damage. Although this form of skin cancer is rarely life threatening it will continue to destroy surrounding tissue, and therefore required prompt treatment.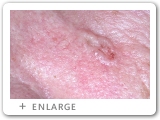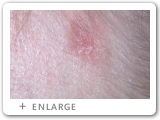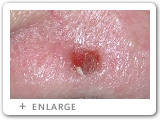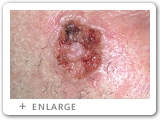 Pink to red, fleshy
Wound like appearance, often mistaken to be a slow healing wound
Tends to appear in sun exposed areas
Often symmetrical unlike other types of cancers
Will not resolve on its own
Common identifying features:
Lesion is dome shaped
Raised at the edges
Flesh or pink in color
Small blood vessels can often been seen at the top of the lesion
May ulcerate and bleed at the center
Resembles a pimple, but unlike pimples, it will not heal
More BCC facts
More common in the elderly
Most common type of skin cancer
More common among patients with a lighter coloured skin tone
Will often seem like a sore that doesn't heal
Commonly found on the face
Several subtypes of BCC
Related: